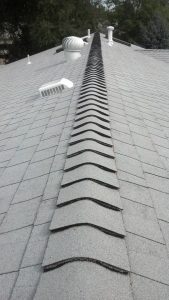 Rustic Mountain Offers All Roofing Products
LET US HELP YOU AS YOUR INSURANCE SPECIALISTS.
Rustic Mountain Custom Homes and Exteriors works with your insurance company so you don't have to.  From start to finish, our highly trained and professional staff will manage all aspects of your project, large or small.  Many times jobs can be completed for no out of pocket cost, to as little as $1000. 
Rustic Mountain guarantees the allocation of funds to complete the work. The company utilizes the highest quality materials available and will pay top dollar for the most talented craftsmen in the industry. It services a broad spectrum of roofs for both commercial and residential facilities.
Cleanup and delivery of all debris disposal of it at a recycling facility is included. The company's goal is to leave the property newly restored and cleaner than they found it.
What can Rustic Mountain do for me?
We provide all paperwork including manufacturers and contractors warranties, proofs of insurance and invoices allowing each property owner to enjoy peace of mind with their newly restored property.
Check out some of our most popular products:
GAF Timberline HD Roofing Shingles
GAF Timberline ArmorShield II Roofing Shingles
*These links take you to the manufacturer website.
Rustic Mountain Custom Homes & Roofing promises to deliver exceptional results as well as a pleasurable experience. We handle everything from prep to clean up.

We leave your site absolutely clean.
We are bonded and insured.
All of our roofers must pass a background check.
Roof and Property Assessment
Our expert inspectors will assess your home, office or property and determine if any defects exist or if the life of your home can be extended through simple modification or maintenance. We use cutting-edge technology and provide you with a comprehensive report after every inspection. We always focus on providing you with the most cost effective solution. We will never try to sell you more service than you need. We are honest and reliable.
What are our customers saying about our work?
Aftermath of the massive 2011 hail and windstorms. Geogiea Armbruster of Lakewood, Co. told Rustic Mountain, "You guys are a godsend as we were out of town and really didn't know what all had happened during the storm. Thank you Rustic Mountain for being here to help us."
Posted on Facebook: homeowner Heather McCarter Hylton of Colorado Springs, Co. Posts "Wow!! U guys are truly phenomenal.  Thank u for everything u have done for my parents, other family members and our friends. I could not recommend a better roofing company."